Introducing State Flow APIs: Headless API State Management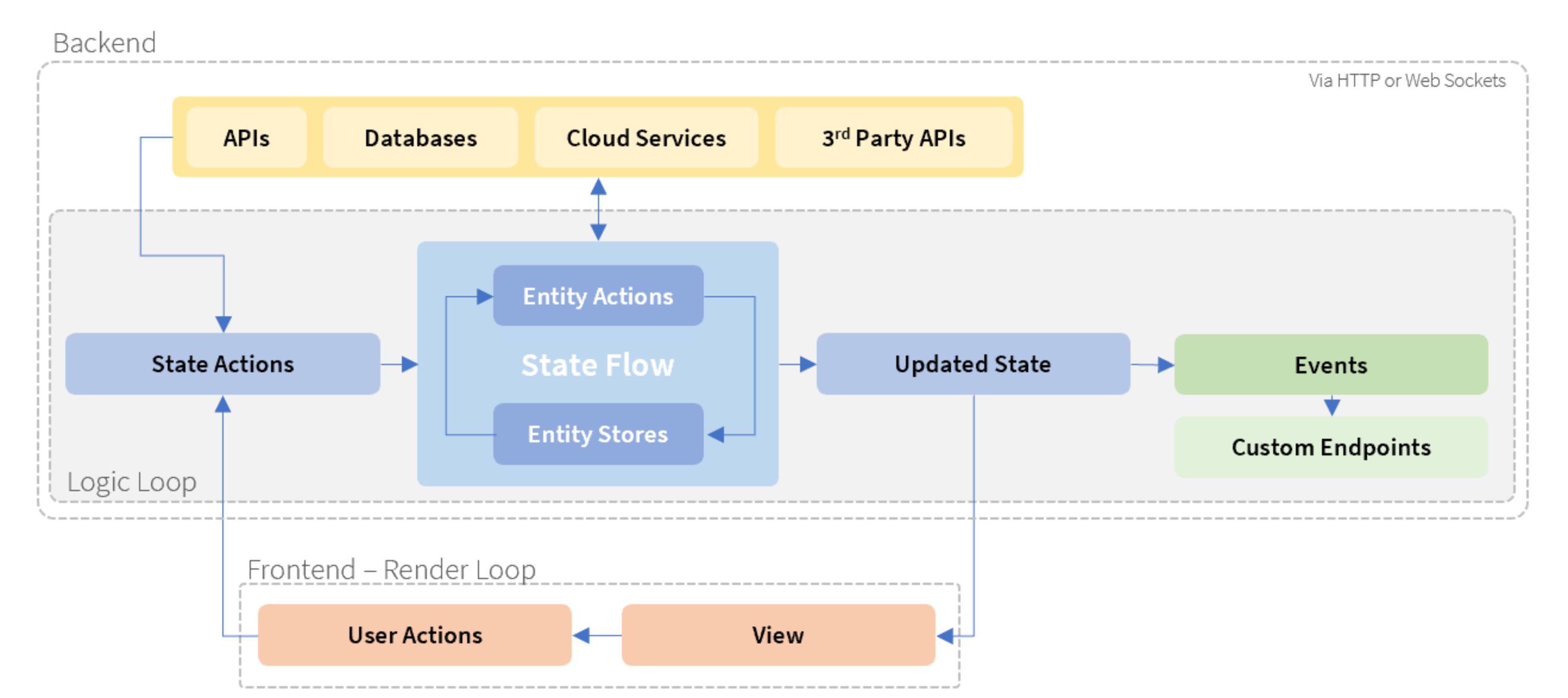 A State Flow API is an application programming interface (API) which manages an application's state. It manages the storage of an application's state and the actions that can modify that application's state: A State Entity stores the Count and exposes a State Action to IncreaseCount. The aim of State Flows is to manage and store an application's state, logic and integrations at the API layer. This facilitates the decoupling and separation of responsibilities for different parts of an application. In this architecture, the backend is responsible for state management, logic, integrations, and receiving user actions from the user interface and triggers from backend data sources, and the frontend is responsible for UI components, sending user actions to the API and rendering the updated state. In this way there are two decoupled loops in play: A state rendering loop in the frontend and a state logic loop in the backend. Organizations can use this State Flow pattern to develop all their application logic in a completely 'headless' manner. Frontend teams within an organisation can then focus solely on building the 'head'. Any changes to the implementation or the replacement of a State Flow API does not impact the frontend, as responsibilities are decoupled. Likewise, any UI updates are simpler, and if an organisation migrates an applications' frontend to a different framework, the application's logic and state implementation remain unaffected.
What is an API?
An application programming interface is an intermediary for two or more computer programs or applications to communicate with each other. An API consists of a set of definitions and protocols for building and integrating application software. In general, an API follows the pattern of request and response, whereby an action is submitted for some information in order to fulfil a 'request', and that information is then returned as a 'response'. In modern microservices approaches, this is typically executed through a request and response-based protocol such as HTTP.
Low-code meets AI.

Habistack
is the most flexible, cloud-native API for delivering machine learning and statistics-based forecasts with any combination of variables.
Habistack brings together NOAA's HRRR and GFS as a predictive weather forecast data stream with current conditions data from ground-based weather stations all over the US. Habistack incorporates into this model historical sensor data from current-conditions sensors, building a forecast-to-IoT sensor machine learning model. This model becomes the basis for an AI/ML engine with the ability to predict IoT sensor readings from a wide variety of environmental (and other) sensors. This prediction capability, when combined with current sensor readings and recent and historic data, is a geospatial intelligence system that exposes the AI/ML model and data into micro-climate forecast APIs.

Habistack's demo application is a surface-level, road-weather application. It uses infrared and temperature sensors on roads to predict the temperature of the road surface anywhere in the world. Combining this temperature prediction with known weather variables such as recent precipitation, it outputs a Road State variable.
What is State?
State is the current data representation of something, an object or a system. It describes and remembers the condition of a variable: The count is 1, or the count is 10. The state is also particular to an interaction and is specific to the individual environment. It is usually not meant to be exported or deployed to another environment. The state is simple and can be read, written or deleted. State can operate at different scopes, whether centralized or at the edge. A computer program or application can have a global state, and within that can also have different states for various contexts, such as the state of a project or an individual user session.
What is a State Flow API?
State Flow APIs are APIs that store and manage an application's state. In this architectural pattern, frontends do not store or manage the state, but render the state that is presented by State Flow APIs. State Flow APIs interact with servers, databases, APIs and third-party integrations to retrieve updated state information, while a frontend client simply connects with a State Flow API to render the state. Through this pattern:
User interface and application state are decoupled
Responsibility for application state management is shifted from the frontend to the headless API layer
Frontends are simplified and responsible for rendering the UI
A State Flow API operates as an intermediary and secure layer between client and servers, external APIs and data sources
Simplified and decoupled
In recent years the Facebook developed flux pattern for building client-side, MVC (model-view-controller) web applications has been widely adopted. In this pattern, frontends reflect some state, and when an action alters the state, the UI then renders this updated state. These stateful processes generally take place in the frontend.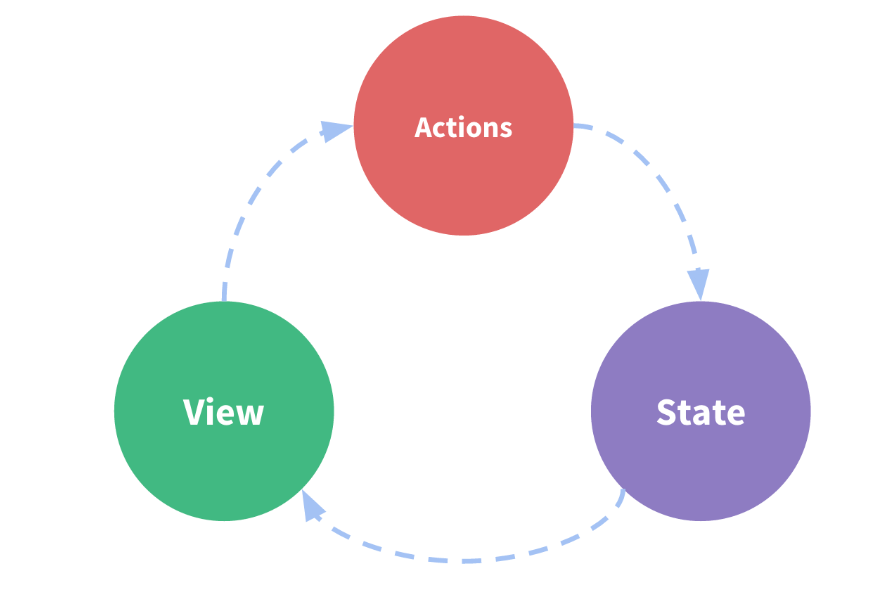 In contrast, State Flow APIs push the flux philosophy to the backend, so that frontends are no longer concerned with state, third-party integrations or making API calls. A frontend simply connects to a State Flow, renders the state, and executes actions against the state. The State Flow is responsible for handling actions, running logic that reacts to state changes and integrates with other APIs and data sources.  Consequently, frontends are simplified and focused on performant user interfaces, and frontend and backend logic are decoupled. User interfaces frame the presentation layer of an application and look to render a current state that is reflected in the UI. In this way, State Flow APIs can be set up in a pattern similar to a Backend for Frontend (BFF) architecture, with small, dedicated APIs for each frontend. However, instead of just creating BFFs for different client types (browser, mobile, third party), State Flow APIs can operate as microservices paired with micro (or modular) frontends. This facilitates a highly flexible, modular, scalable and future-proof architecture. Applications are more testable, maintainable and replaceable. Here is a basic overview of a State Flow API architecture: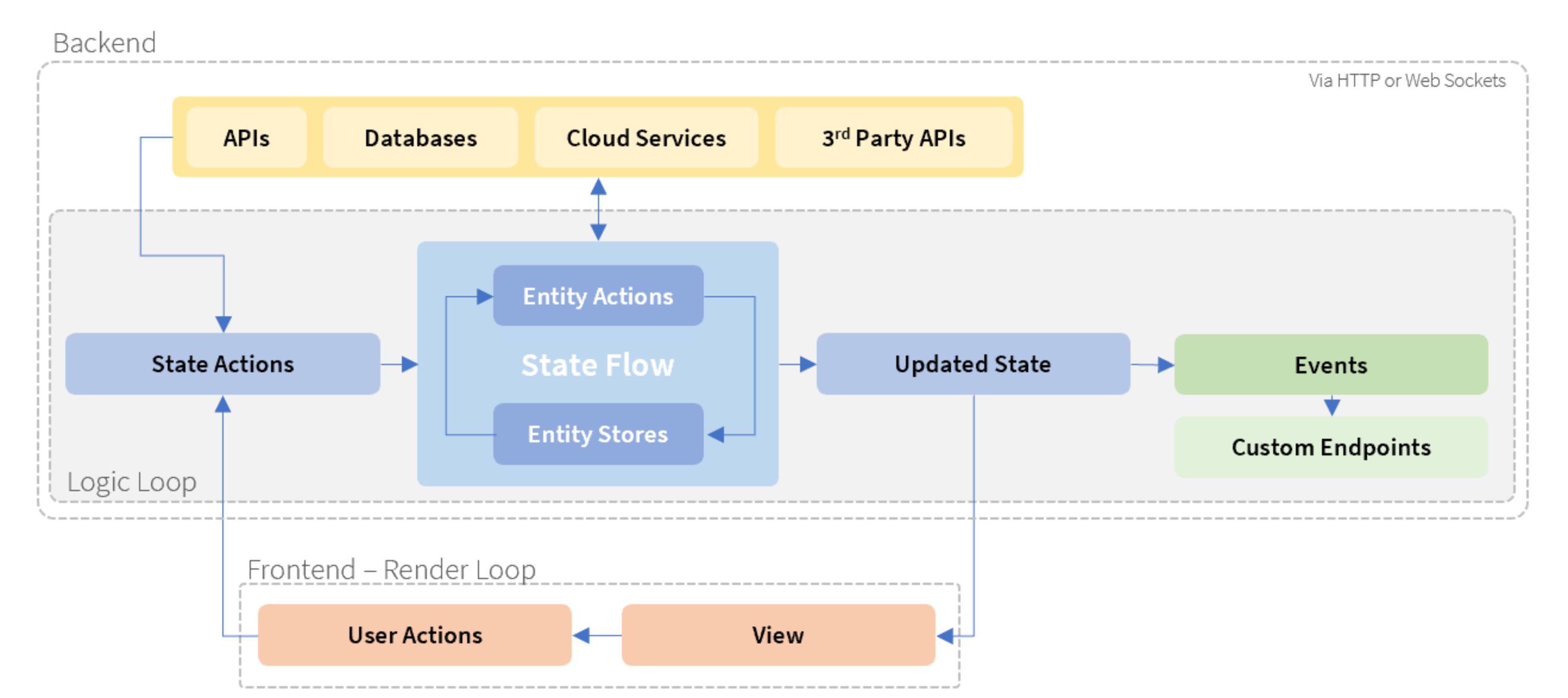 View:
The view is a declarative mapping of the state on the client (the frontend user interface).
State Actions:
State Actions are triggers that can modify the state. State Actions are invoked by user inputs from the view and in response to changes in backend data sources, via triggers such as webhooks or WebSockets.
Entity Actions:
Entity Actions are specific to each Entity Store, and control how State Actions retrieve and manipulate an Entity Store's data. The Entity Actions can also integrate with and retrieve data from databases, other internal APIs, and third-party integrations.
Entity Stores:
Entity Stores hold the application's state. A State Flow API can have many Entity Stores (operating in sync or separately), or also none. Entity Stores update the current state in response to Entity Actions and map the updated state to the view.
Request and response
The State Flow API architectural pattern is agnostic to tech stacks and flexible in implementation. State Flows can be implemented as a standard request and response scenario, whereby the UI updates when a user invokes a State Action, or a request is made for new data from a data source at scheduled intervals. If a user navigates to or refreshes a page, that creates a request for new data. The client can access state data from a cache, but if the cache is not up to date the State Flow sends a HTTP request to a server which returns a response. Through this model it is also possible to implement long polling, whereby servers only return a response to a client if there is new information available.
Persistent listening
Another approach is to take advantage of technologies, such as WebSockets, that facilitate near real-time state rendering. In this model, backend services update State Flow APIs with new and aggregated event data as it becomes available, rather than a server waiting for a frontend client to request new data. In this way, State Flows maintain bi-directional connections with backend services (via WebSockets) that are persistent, unlike a classic HTTP connection, which is re-established for each communication. A frontend immediately renders new state in real-time as it is updated in a State Flow. Application types that are good candidates for real-time state rendering include dashboards and monitoring applications, live feeds, chat applications and real-time collaboration applications. A State Flow implementation for these application types helps boost performance and response times. State Flow APIs react to, draw from and aggregate state information from a variety of different sources, such as user actions, databases, internal APIs (including other state APIs) and third-party integrations.
State Flows: A living system
This always fluid, moving and updated implementation of State Flow APIs is a paradigm shift from the standard request and response method. In the request and response model, data moves on request. But in this fluid paradigm, data moves continuously, consistently and securely. Data is constantly updated and available, for whatever or whoever wants or needs it. It is a living system, where technologies such as WebSockets and serverless functions can handle events and actions and render always up to date state information in real-time. Furthermore, a State Flow architecture can supersede and incrementally replace a more standard HTTP-based microservices architecture. By updating to a State Flow-based architecture, there is no need to wholesale replace existing microservices or monolithic legacy architectures. State Flow APIs can provide a means for incrementally isolating, replacing and modernizing systems, with minimum disruption. They provide the scalability and abstraction, whereby business logic can be developed without being tied to the tech implementation. The framework of the frontend UI that renders the state or the cloud a tech stack is deployed on can change, but the business logic that orchestrates and integrates data through State Flows remains unaffected.